Greetings space travelers!
Today, we are proud to finally announce that The Away Team's demo and soundtrack are now officially available. Alongside this, we are also releasing a patch that brings in a few new features.
The Away Team's Soundtrack is available for US$5, and includes a mix of 16 ambient and melodic tracks in FLAC format. This has been long-requested, and we're glad to get the high quality versions of the game's music tracks into fans' hands. If you're new to both or would like to gift both to a friend, we've also made the game and soundtrack available together in a bundle.
The new Away Team: Lost Exodus demo offers prospective players the opportunity to have some first hand experience with the game before committing to the full version. Including 8 characters, two side missions, two story missions, and one set of random event missions, it's a little taste of everything. If you've been trying to work out whether The Away Team is for you, or haven't quite found the right way to recommend it to a friend, the demo lets you do that hassle free. The demo can be installed from the Steam store page, and any progress made in the demo will carry across to the full version of the game.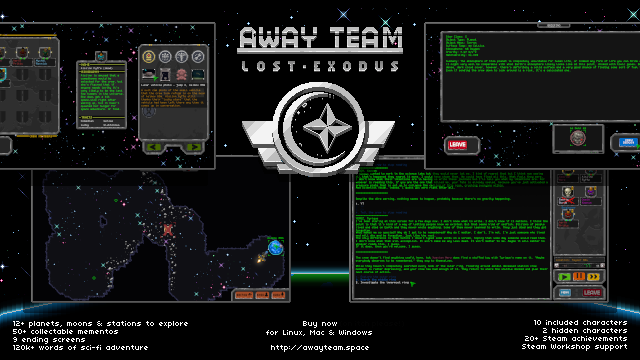 Last, but certainly not least, we have released the 2.5 update to the game itself. This is not a large patch, but it does contain a number of small additions that we hope will make players' experiences more enjoyable.
Added in-game "Challenges" screen for viewing achievements and achievement progress
Added a clock/time counter to the sector screen
Added two "Cheats" that allow players to modify gameplay to suit personal preferences
Added tooltips for food, fuel and time in the sector screen